How often should I breathe when swimming?…
Alan Couzens, MS (Sports Science)
Sept 12th, 2014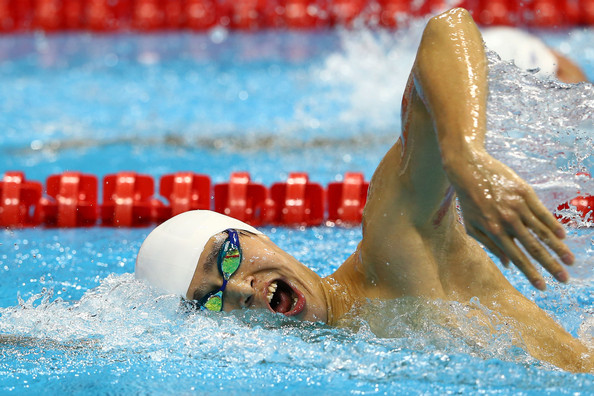 As often as you need to!
... end of blog :-)
Well, that short, simple answer is 100% spot on but I know you want more info that that. So here goes….
I saw this great article on Swimsmooth.com on the subject of breath frequency while swimming & figured I would add some quick observations on the topic.
If you ask around the elite triathlete ranks, you might be surprised by the intensity of views on this subject. Some will swear by the stroke balance that breathing every 3rd stroke provides while others (typically ex pool swimmers) will sing the praises of the extra O2 that breathing every stroke offers. So who is right?
There is good reason for the intensity of positions on the subject – this O2 thing is pretty important! In short, it's so important that other stroke considerations will be built around ensuring its adequate supply. So how much do we need? (click here to read more)
**************************************
Fat Burning for the Serious Ironman…
Alan Couzens, MS (Sports Science)
Sept 9th, 2014
I received a bit of interest on yesterday's tweet on the topic of Ironman metabolism shown to the left.
Most inquiries were asking what that 'ergogen..thingy' means :-) but a few of you were interested on where that balance point of the 'right amount' of fat burning for the serious Ironman athlete lies. So I figured I'd expand on that tweet and delve into the hot topic of LCHF (low carb, high fat) diets for Ironman athletes... Click here to read more....
**************************************
Alan Couzens, MS (Sports Science)
Sept 3rd, 2014
I recently wrote a couple of articles on how bike geometry interacts with body geometry – specifically how your open hip angle impacts the stack and reach of your optimal bike frame. The one big factor that I left out of that equation that can have a VERY large impact on both comfort and efficiency is crank length.
Crank length is a sort of 'linch pin' in bike fit. An often ignored factor where fairly small errors can have quite large effects & an otherwise good fit can turn into a very bad one, especially if you happen to be unfortunate enough to require a smaller frame size (which will almost certainly come with a comically disproportionate crank length!).
A crank length that is too long for the athlete's hip mobility will result in a number of compensations that, at worst lead to injury, and at best lead to high levels of discomfort during longer rides. Click here to read more....
**************************************
Alan Couzens, MS (Sports Science)
August 27, 2014
In a previous post, I outlined the way that I look at blood lactate data for the purposes of both setting the athlete's training zones and identifying weaknesses in the athlete's profile.
A great follow up question was recently raised and so I thought I would add some thoughts here. The question was "How does this analysis of strengths and weaknesses differ for short vs long course athletes?"
Below you'll find 2 lactate curves – 1 from an elite long course (Ironman) athlete and another from a short course (ITU) athlete. Both are similar weight (low 70kg's) and both equally accomplished over their respective distances. I would consider these curves and this data fairly typical of the differences that I see between these 2 types of athletes across the board.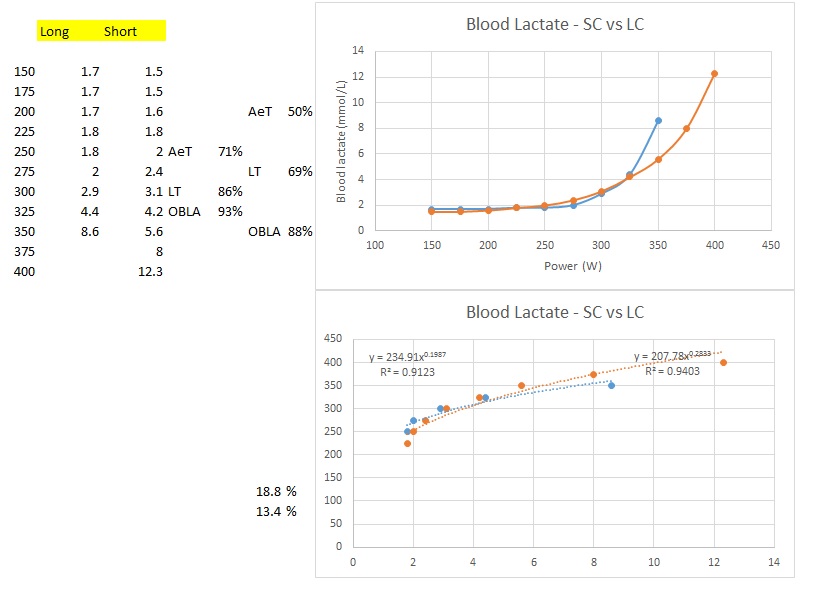 Key differences.
AeT (first inflection point) occurs significantly further along the curve for the Ironman athlete (70% vs 50% of peak power output). This is obviously an important training objective for the Ironman athlete and a key differentiator in training protocol.


When the Ironman athlete's curve 'kicks', it kicks hard! i.e. when the curve begins to turn up, it does so with a steep gradient, as opposed to the ITU athlete's curve which is more gradual in its rise. This leads to AeT/LT/OBLA to be clustered close together Again, indicative of where the athlete distributes their training load & the relative importance (or lack thereof) of training significantly above the AeT.


The 'threshold' point (via the modified D-Max method) is higher in the short course athlete than it is in the long course athlete. Again, clearly this point on the curve is more important to the shorter distance. An important observation: The reason that it's further along the curve is because of the shallower gradient of all the points immediately above it. This has key training implications for short course events.


The maximal numbers (both lactate and peak power output) are lower for the Ironman athlete. More than the SC guy being particularly 'strong' here, big volume Ironman training has a tendency to bring down maximal lactate & power numbers. I have observed a relationship between low lactate numbers and a poorer training response. Therefore, preserving some 'top end' even in the midst of Ironman training is, for me, an important priority.


The exponent curves show that the % increase in power for a given jump in lactate is significantly greater for the short v long (~19% vs 13%) showing greater glycolytic power (and diminished lipolytic capacity) for the SC guy. Again, an important metabolic differentiator between short and long.



Hopefully you will find the above data useful in monitoring your own strengths and weaknesses over the season and tailoring your training to the specific demands of your event.

Train Smart,

AC.

Tweet

*****************************************************************

Alan Couzens, MS (Sports Science)

August 18, 2014

The guy above, Alexander Popov, represents my personal ideal of the 'textbook' freestyle stroke. I was very fortunate to spend some time during my studies apprenticing under his coach, Gennadi Touretski, who was, at the time, also the head coach of the Australian swim program at the Australian Institute of Sport. Not to put too fine a point on it, but Gennadi was a pure genius in all aspects of swim coaching – technique, physiology, you name it. However, if there was one area that he was known for, it was the emphasis on perfect technique for every single stroke swum during a session. Click here to read more

**********************************************

Alan Couzens, MS (Sports Science)

August 25, 2014

In my last post, I gave an introduction to the 3 key technical swim limiters that I see among triathletes. Namely, Rhythm, Range and Relaxation. I suggested that, if you are serious about improving your swim this season, that it is essential to identify which of these are holding you back. Finally, I pointed your over to Swim Smooth for a simple but powerful 'diagnostic' tool to begin to identify your current limiter.

In this article, I'm going to delve a little more into the practicalities of how to go about diagnosing your own swim limiter. I'll introduce you to a simple test that you can use to not only help to identify your own weaknesses but also to help you track improvement in these areas over time. Click here to read more.

*****************************************************************

Alan Couzens, MS (Sports Science)

Aug 7, 2014

With the 2015 bikes hitting the market, many Ironfolk will be 'looking to upgrade'. Usually this means better materials, sleeker lines, hiding more 'stuff' &, above all else, more aggressive geometry. After all, nothing looks better rolling through transition than a bike with full aero set up and a huge drop. Big drop = low frontal area = this dude is serious about laying down a fast bike split!

Well, there is one element of that equation that is missing – big drop + holding the position for 5ish hours = fast bike split!

While a big drop may look cool coming out of T1, it looks a whole lot less cool when the athlete is sitting up riding the bull horns for the second half of the race. Not only does it look a little ridiculous, it's also slow. How slow? Click here to read more.





*************************************************************

Alan Couzens, MS (Sports Science)

July 17, 2014

"If you know the enemy and know yourself, you need not fear the result of a hundred battles"
- Sun Tzu

We (Endurance Corner) recently hosted a race prep camp for the coming inaugural Ironman Boulder. With the race course fresh in my mind (and legs), I figured now would be a good time to put together a quick synopsis of what athletes should expect & how they should strategically play the race.

Swim
The swim is a simple 1 loop counterclockwise 'triangle' course in the waters of the Boulder reservoir. The only real significant feature of the swim is the bright sun that will hit you when swimming in the initial North East leg of the swim. This could make the initial turn buoy a little hard to spot so try to identify a larger landmark to the North at the start of the swim. It could also make sighting to the left a little challenging on the way back so be sure to have another good landmark at the swim finish. Tinted goggles are a must. Also, buoys will be on your left so get comfortable with some left side breathing.

Bike
The bike course can be basically broken up into 3 sections as shown on the elevation chart below.

Grades of 2% or greater are highlighted so that you can see how they are distributed across the course. As you can see, the most sustained uphill sections occur deep into the 180K. In terms of optimally pacing your race, a simple rule of thumb is to go '1 zone up' on grades of 2% or more, '2 zones up' on grades of 5% or more and the opposite of this for the downhills, i.e. on a 2% downhill, due to the higher air speed, athletes are best served in a speed:energy output perspective going easier than their average output. While, on grades of 2% or more, when air speeds are lower, athletes should be pushing one zone up from their average watts. For the Boulder course, with the most sustained grades occurring late, this makes a 'negative power split' strategy especially optimal!

Section 1: "Steady comfort" (Transition to the end of highway 36).
This is a rolling net uphill, with the longest stretch of consistent gain in the whole race. That said, grades, particularly in the early stages are not obvious. In other words, it is one of those phases where speed is slow & the athlete has something to push against. This coupled with early race adrenaline will lead many athletes to open up with an overly aggressive strategy. While I am generally a fan of "going fast when the race is slow", if there is an exception to this rule, it is at the very beginning of the race, when heart rates are typically still high from the swim/T1 and the athlete is looking to settle things down in order to get ahead on nutrition. With this in mind, I consider this phase of the race a 'steady' (Zone 2) 'get comfortable' period. There is one additional nasty grade (not shown) in this section that has athletes rolling down and back up St. Vrain as a short distance tack on. This grade is significant and, with it occurring early in the race, most athletes will likely spike their heart rate/power significantly. If you are passing folks on this climb, you're probably pacing sub-optimally. Temperatures will likely be cool to pleasant in the early bike but will warm up quickly. Once heart rates are settled, use this period to get ahead on hydration.

Section 2: "Easy Aero" (66 to CR 13).
This is the fastest section of the course, a net downhill. Speeds will be high and athletes will feel good. The temptation at this point will be to be of the mindset "this is easy, I'm going to crush this bike split". Don't be fooled. The hard section of the course is still to come. Enjoy the speed that you are getting at relatively easy output, but in the words of my buddy, Justin – "Don't go looking for work". It will come! From a pacing perspective, most AGers will be best served by sticking to their easy (Zone 1) power/HR band for the bulk of this section, with a focus on staying aero and (legally) surfing those competitors who are pacing inappropriately and rolling past. Both average heart rate and power should be at the lowest points of the bike at the completion of this section, giving you plenty of room to elevate in the closing stretches. There is one scenic short climb that is an enjoyable 'stretch break' during this section from km 45-50 along CR12. This is the most scenic section of the course Take a look around and enjoy it. There are some sustained periods of less exciting scenery ahead

Section 3: CR 13 to T2 (The work begins!)
This is the section of the course that I live closest to and I have had my 'hundred battles' on it - some won, most lost. It is deceptively difficult, especially late in a long ride. Despite the relatively low net elevation gain of the course, it is not a 'flat' course like Florida or Arizona. Nor is it a momentum rolling course like Louisville. You are basically rolling slightly down (heading away from the mtns) or slightly up (heading towards the mtns) the whole time. From 100k to the finish, you're rolling up! The road is pushing against you fairly consistently during this period & you will want the legs to push back! This is the section of the course where athletes who have saved sufficient energy to draw on some Zone 3 (Moderately-Hard) will be rewarded. This Zone 3+ effort will be a necessity for the bulk of athletes on the steepest pitch of the course, as the athletes turn off Hwy 52 and head to lookout road. You will want some legs for this period of the race. Following this, there is a relatively flat roll through downtown Boulder to the high school where you will begin the run.

Winds typically are Easterly and pick up through the day. The exception would be if an early storm blows in over the mountains. If this is the case, it generally leads to Westerly winds that are quite strong and would be blowing straight at you as you roll back into town along highway 52. Prepare yourself for this possibility. If you are already 'fragile' at this point, It will make for a very tough day!

Run
The general pattern of the 2 loop run course is similar to the bike – slight downhill as the athletes head away from the mountains, followed by a slight uphill as athletes head back towards the mtns. Athletes will enjoy the slight downhill start as they roll out of Boulder high school and along the cool waters of the Boulder creek. This pleasant phase is short lived, however, as athletes will make a turn off the creek path to begin the first of the 'tack ons' that race organizers added following the Boulder floods. This first tack on (~3 to 8K) is a slight net uphill grade on the way out that is not particularly obvious. It just 'feels' like work after coming off the pleasant downhill of the path. Athletes will likely 'over cook' this part of the course as they start to feel as though they are moving too slow following the grade assisted section of the BCP.

Runners then roll back towards the path for a short stretch before beginning the only significant hill in the course as they climb the foothills parkway overpass. This is the most exposed, least 'pleasant' section of the course. Many athletes will be well served to add a walk break at this point. Following the overpass, the athletes roll down Pearl Parkway on a net downhill to the turn around. Following the turnaround, the work begins!

From ~11K to ~18K (33 to 40K on lap 2) is the longest consistent uphill stretch as athletes head back 'up the creek'. This isn't so much a hill as a 'slow section' of the course. It's sheltered and cooler than the more exposed sections, but from a pace perspective, just be prepared to see slower paces on this section of the course. This long period of 'feeling slow' may be tough on those athletes that have paced sub-optimally to that point, and this is the perfect section to make a lot of passes if you're feeling good. This is especially the case on lap 2. Passes here will stick! The path winds and twists and when passes are made it will quickly be a case of "out of sight, out of mind". Running to pace will be particularly demoralizing on a course like this. With the grade differentials and the impact of altitude, I would advise all athletes to pay close attention to heart rate on both bike and run.

The grade progressively increases a little more as athletes approach the 2nd turn around at Eben G Fine Park. This would be another good spot for a well placed walk break. Following this turnaround, the athlete hits the fastest section of the course as they roll downhill back to the starting point at Boulder High School, before beginning lap 2. You will want to have the legs to run here with good cadence for an extended period of time. While the speed differential between running hard and 'turning the legs over' won't be that great, the difference between walking and running here will be large. The course is almost all concrete and with the grades, could be tough on the legs & feet. Be sure to train this aspect with some uphill/downhill running.

In many ways, this course is a perfect example of a course where 'back end loading' your effort is rewarded. The toughest parts of the course will be in the latter sections of both the bike and run. Arriving at these points 'ready to work', will be rewarded.

For our Endurance Corner profile of Ironman Boulder from local pro, Justin Daerr, click here

To hear Justin, Gordo and I chat about some of the challenges of racing at altitude along with some more course specifics, click here

Race smart!

AC

*************************************************************

Alan Couzens, MS (Sports Science)

May 30, 2014

In my previous post, I weighed in a little on the LCHF debate. As I outlined in the post, valid arguments can certainly be made for moderating the carbohydrate intake during the bulk of the training phase for most athletes. However, as we move from training to taper, different considerations emerge that will have impact on the optimal pre-race diet for the endurance athlete.

Studies have consistently shown a strong relationship between starting CHO stores and time to fatigue at submaximal intensities. For example, Balsom et al., (1999) found a 50% decrease in time to fatigue when subjects began an exercise test with a 50% reduction in glycogen stores. This almost linear relationship between starting glycogen stores and time to fatigue has been observed in numerous studies. Therefore, a key objective heading into your A-Race is to maximize this adaptation. The good news is that it doesn't take a lot of time or effort to maximize this adaptation. However, it does require doing things a little bit differently to your normal training and nutritional routine and perhaps a little different to a normal taper routine for a shorter distance athlete.

Ironman legend, Torbjorn Sindballe comments on some of the differences here...

" If I only did shorter sessions for the few weeks leading into a race, I often felt super fresh but lost my momentum after hour three or four in the race. To combat this, I implemented a big rest phase to reduce fatigue several weeks before a big race and then did a series of more normal training sessions in the weeks leading up to the race"

Read more at http://triathlete-europe.competitor.com/2012/06/13/the-art-and-science-of-peaking#BMT6vwDSUuIzlARb.99

What he's referring to is a very real physiological phenomenon of metabolic detraining. While, most physiological adaptations can be sustained on relatively minimal volume for 3-4 weeks, if an athlete does not 'challenge' the ability to hold on to larger than normal glycogen stores, it is an adaptation that is lost rather quickly. A typical rate of 'metabolic detraining' is shown in the chart below (data from Casey et al., 1995).

In the absence of sufficient stimuli, the body will lose 10% of its glycogen stores within 2 weeks (more if the lack of long rides extends into other weeks!) & you will lose 10% or more from your time to fatigue! For this reason, including regular moderately long sessions, even relatively close to an Ironman, is a very worthwhile strategy for the serious Ironman athlete, as suggested by Torbjorn. However, it is not just the shift in race week training that will enable you to elevate your glycogen levels to new highs. The training must be accompanied by a similarly appropriate nutritional strategy.

To increase your body's receptiveness to storing glycogen, demands a little bit of a departure from a normal taper routine in both training and nutrition. Here is what I suggest for the long course athlete…
5 days out (Tuesday) – Do a moderate length/intensity session with minimal CHO intake designed to take your CHO stores relatively low. Something in the vicinity of 4hrs/200TSS with some race pace efforts on 'water only' or very light CHO. Tuesday following the session – big CHO! This should be an ~600-800g day accompanied by a good amount of fluid & normal protein/fat. Have your own mid-week pasta party!

3-4 days out (Wednesday/Thursday) – Decrease overall caloric content but keep CHO proportion high (70-80% - 400-600g/day depending on the size of the athlete).


1-2 days out (Friday/Saturday) – Begin to move towards more easily digestable CHO. Be conscious of not taking in foods which will be slowly digested (fats/fiber etc). Typical transit times for fats are ~72hrs. This number can be greater under periods of high stress! While, you don't want to omit fat entirely, having a large amount of undigested fat in the system has the potential to both slow digestion of the important carbohydrates and lead to gastric distress so begin to minimize this 72hrs out. Additionally, some athletes find benefit in minimizing gluten and dairy during this period as these are 2 of the most common digestive 'irritants' among athletes.


Race morning – Take the easily digestable to the extreme. Try and get 80-100g of CHO for every hour that you are up prior to the race with a good chunk coming from liquid or semi-solid forms. Ideally this will be 3-4hrs so 300-400g of CHO total, progressively tapering down towards race start. An example might be…

Wake up 3-4 hours prior to race start...
Hour 4-3: 3 Ensures (100g) +Ripe Banana (27g) = 127
Hour 3-2: 2 Ensures (66g) + Ripe Banana (27g) = 93
Hour 1-2: 1 Ensure (33g) + 0.5 banana = 50
Hour 0-1: 0.5 Banana in transition. (13g) = 13
----
~300g


This final 'meal' on race morning can really be thought of as your first race nutrition. We are looking to provide the body with calories that can begin to be digested in the easiest part of the race day (before you're even racing :-) This will help to get you through the swim and the early bike. Just as it is important that it is easily digested and you're not going to be carting it around all day, it's equally important that we don't want something that is going to hit your blood stream before the gun goes off(!), so stay away from gels and the like and be sure that whatever you eat has a little bit of fat and protein to slow digestion. For folks who can tolerate solids, a bagel or 2 with a little bit of nut butter is another suitable alternative.

Also, while we set it up with an aim to be easily digested, pace these early phases with the realization that in addition to race energy you will be using some energy in the early race for digestion. If you're able to get this last meal digested well in the early period of the race, it will come back to benefit you ten fold when energy stores are running low & digestion may be more compromised late in the day.

Whichever nutritional option that you go with, be sure to test it before race day. Ideally in one or more of your simulation workouts in that final race preparation phase.

Eat smart!

AC

*************************************************************

Alan Couzens, MS (Sports Science)

May 5, 2014

There is a lot of buzz currently centered around the LCHF (low carb, high fat) approach to nutrition. This is not a new phenomena. Dr. Atkins was pushing the benefits of a low carb diet to both bodyweight and health long before it became popular to do so. However, until recently, the exclusive domain of LCHF lay with the sedentary & those athletes willing to sacrifice training volume/intensity to 'cut weight' e.g. body-builders, wrestlers etc. Now that Dr. Tim Noakes has thrown his hefty credentials behind LCHF, the interest among endurance athletes is growing. In the past week, I've personally had 2 of my athletes tell me that they wanted to give LCHF a try while asking…

What do I think of LCHF?

As someone who has done my fair share of metabolic testing for endurance athletes, I am all too aware of the benefits of being able to generate more energy from fat. The best Ironman athletes simply do. While, athletes who might be great short course athletes, perpetually fall short over the longer races if they fail to make this adaptation.

I am also very aware of just how 'shape-able' this ability is. For athletes who make radical nutritional shifts, I've seen them double their fat burn rate in as little as 6 weeks! BUT (and this is a big but) there are also negative performance implications, at least for Ironman athletes, in taking LCHF to its extreme.

When 'low carb' turns to 'no carb', the body (by necessity) enters a state of ketosis, where ketone bodies are created and metabolized to produce energy – primarily for the brain (which cannot rely on fat as an energy substrate) but also for higher than normal energy bursts. In this sense, ketones can function as a replacement for glucose in an appropriately adapted athlete. However, at least based on current research there seems to be a limit on the 'production rate' of these ketone bodies. Even under conditions of diabetic ketoacidosis (where the person is relying on the generation of ketones for their very survival!) ketone production rates are restricted to ~200g/day. Studies on non-clinical individuals typically show ~one quarter to one half these numbers. Considering that a competitive Ironman is going to require CHO/ketone oxidation rates of 60g+/hr (even for the best of fat burners), this is going to pose a real problem! Put plainly, if you are going to do extended, moderate to high intensity exercise over any length of time, you are going to need to take in some carbohydrate.

This is where things get tricky. The big appeal, and honestly success of LCHF is its binary nature – you're either eating carbs or you're not. You're either in ketosis or you're not. Tracking 'the right amount' of carbs becomes an additional (read: pain in the butt) step for someone whose blood sugar is already on the decline! So, to help you out, I'm providing this handy calculator that scale your CHO recommendations in accordance with the amount of training you did that day so that the amount of CHO you take in on a given training day will enable you to keep the training load/intensity where it should be while still promoting your ability to burn fat.
To use, simply enter your FTP (or your wattage at an RER of 1.0 from a recent lab test if you know it) along with your training load (TSS) for the day and hit calculate. It will spit out a recommendation in grams of CHO for the day
The basis of the above calculator is that our aim is to fuel the entirety of your resting metabolism from fat, while only providing enough CHO to fuel your exercise needs. The calculation is based on the maximal levels of fat oxidation that I have seen in adapted athletes from the hundreds of metabolic tests that I have performed. As such, if you are not yet adapted and you are just starting out, the numbers may be tough to hit. In this case, it's up to you (and your coach) as to the priority of fat adaptation vs training intensity in your current phase of training.
Hopefully you find it to be a useful tool in your quest to become a lean, fat-burning machine.
Train smart,
AC
**************************************************************
Alan Couzens, MS (Sports Science)
March 17th, 2014
'Exercise is bunk. If you're healthy you don't need it and if you're sick, you shouldn't take it' - Henry Ford.
The quote above is one of those that irritates me every time I come across it and yet, there is some level of truth to it. If we're to be honest with ourselves, while we would like to see our motivation to exercise at unusual levels as stemming from some worthy cause of maintaining our health, the fact is that there are many people walking around this green earth who are very healthy and who do not log 20 hour training weeks! As Gordo points out in his latest EC article, the amount of exercise required for health is far less than what most of us are doing. In fact, some have argued that the amount of exercise that we are doing is decidedly unhealthy, as Dr. Larry explores in another EC article. No, if we are to be honest with ourselves, many of us, 'keep it rolling' for fear of re-stacking those 'freshman 15 or 20 or 30...' or, for those at the top of the training spectrum, for fear of 'losing it'.
What do I mean by 'losing it'? Losing the plot? Well, that's certainly another issue that the exercise-addicted can face :-) but no, here I'm talking about that, oh so precious, word - fitness!
What does it mean to be fit? Our collective perspective may be a little off here. For some of us, if we're not in sub 3hr marathon shape, we're not fit(!) but I think we could all generally agree that maintaining the function of our younger selves is a high priority. To be clear, if your 'younger self' consists of a 15 minute 5000m collegiate track athlete, that's NOT what I'm referencing here. I'm talking about maintaining the fitness of your typical 20 to 30 something - the sort of fitness that permits you to say "sure we can walk half way across the city rather than waiting for the next bus", "Sure I'll come on a hike with you this weekend", "No problem, I can lift that", "yes, little Johnny, Grandpa would love to come run around the backyard with you." and, perhaps most important of all "yes, I'm young & fit enough to beat this." Whatever, 'this' may be, your chances are exponentially better if you're going into it not just healthy but fit! Percy Cerutty wrote a book - "Be fit or be damned!" (a book you should read, by the way). Not to put too fine a point on it, from my perspective, he was spot on.
So, let's put a number on this level of fitness.. The bulk of studies that have looked at the question of average young (collegiate) guy/girl fitness have found VO2max values in the range of 35-45 ml/kg/min. In our world, nothing too special, something in the range of 23-30 mins for a 5K. But, according to the extensive data from the Cooper institute's studies, a level of fitness that is found in fewer than 2% of the over 60 population!
This natural drop off in aerobic capacity with age is shown in the chart below.
The studies that have investigated this question have tended to find a pretty uniform drop of 5ml/kg/min per decade when no intervention (i.e. exercise) is made. While it's hard to come up with a definitive fitness requirement to 'sustain life', the dashed line corresponds with the equivalent VO2max of what climbers call "the death zone", i.e. greater than approx. 8000m of elevation. I will leave it to you to determine whether the intersection of the typical fitness decline and average life expectancy at this point is coincidental.
When a high (competitive) level of exercise is 'taken' throughout the course of an athlete's life, as in Heath et al.'s 1981 study (data referenced in the chart above), subjects still exhibit a decline but..

They are starting from a higher point
The decline is significantly attenuated
Both of these phenomena are very good news for those looking to maintain the fitness to hold a good level of function as they age & for those looking to maintain the reserves to deal with the inevitable challenges to health that we will all face.
This fact is what prompted my tweet...
Always sad to see middle age athletes fall away from sport. The greatest challenges to health & fitness come in the later yrs. #PaceYourself

; Alan Couzens (@Alan_Couzens) February 10, 2014
It's sadly ironic that our interest in exercise tends to be peak when we are at the age when we are naturally the most fit, when in actuality, if we are looking to even come close to maintaining the fitness of our younger selves, our investment in exercise must significantly increase as the years progress.
So how much are we talking here? While there is significant individual variation in training response, as discussed here, a 'ballpark' aerobic training response would be in the range of 0.5ml/kg/min per 100 hours of training. In practice, this means that your average 30-40yo athlete, can attenuate the normal 5ml/kg/min decline for the decade with a relatively meager exercise investment of 100hrs per year. However, for the 60 year old, looking to maintain a similar level of fitness, the news isn't quite so good. Carrying the math forward, preventing the decline here would take ~475hrs of aerobic activity for the year! Is it any wonder that only 2% of the over 60 population have this level of fitness? Based on these calcs, the level of aerobic exercise (hrs/day) needed to maintain, across the decades, is shown below...
While a 2+hrs of training per day may be a little unreasonable for a 70 year old, it does happen. These 70 year olds are the same ones that inspire us every year by having the capacity to finish the Hawaii Ironman. Maybe being a little 'unreasonable' isn't such a bad thing.
#PaceYourself
AC
**************************************************************
Alan Couzens, MS (Sports Science)
March 10th, 2014
For those who weren't able to join us in Tucson this year (or for those whose brain was running a little short of glucose at the time :-) here is my powerpoint prez on tapering considerations for Ironman athletes. Enjoy!
AC
***************************************************************
Alan Couzens, MS (Sports Science)
March 6th, 2014
Training camps can be a risky proposition, there's no doubting that. In Gordo's classic "Going Long", he goes so far as to say that while 'crash training' is appealing for most, it's appropriate for few. And yet, as I outline in this EC article, providing the athlete can pull it off, the training density that a training camp offers makes it a very effective strategy for both
Bumping fitness to a higher level prior to the 'serious' (specific) training of the season
'Peaking' fitness to the highest possible level prior to a race
In fact, due to it's effectiveness in accomplishing these objectives, it's rapidly becoming almost a necessity in the preparation of serious athletes. Training camps have long been a staple at the elite level, but, they are now rapidly making their way into the age-group ranks. In fact, I'm hard pressed to come up with a recent Kona Qualifier that I've coached who hasn't made use of one or more training camps in his qualifying build.
Yet, this is not to discount the risk of increasing your regular training volume by that much. People get sick. People get injured. And, to extend the metaphor of the EC article, sometimes a training camp can definitely 'backfire'.
I most typically see a 'backfire' when an athlete:
Goes into the camp without a clear sense of what he/she is trying to accomplish in terms of training load for the week
Fails to heed the signs that recovery is needed during the week
Feels like Superman following the camp and returns to heavy training WAY TOO SOON!
The calculator below is a really simple tool that is designed to help you avoid the 3rd cause of the proverbial 'backfire' outlined above...
| | | |
| --- | --- | --- |
| CAMP WEEK | Recovery Week | Return to loading |
| | | |
To use, simply dial up the load of the first slider to the relative load of your training camp compared to your standard loading week going in. In other words, if your normal loading weeks were 12 hours going in and you did 24 hours for your camp week, this would represent 200%. As an aside, I don't recommend increases of more than 200% for a camp week as they greatly increase the risk of 'backfire'. As you slide the first slider up, you'll notice that the second goes down. This represents the recommended load in your recovery week as a % of that 'baseline load'. So, if you're a 20hr per week athlete and you do a 30hr training camp (150%), for the recovery week, I'd recommend approx. 10hrs (50% of your baseline load). You'll see that week 3 is permanently fixed to a return to baseline load. The ability to do this is a crucial factor in assessing the success of a training camp. Set up your recovery with this key objective in mind
This strategy can be surprisingly challenging to pull off. You'd think that at the end of a huge week, athletes are ready for rest but, based on my experience often the fatigue takes a few days to arrive and, in some situations it can take a little bit of active facilitation to calm the system down (decrease the stress hormones and the general sympathetic response) after several days of 'battle'. It's this combination of wanting to stay 'up' coupled with the fitness bump that the athlete gets from camp that often gets athletes into trouble. Put more bluntly, ignore the calculator at your own risk :-)
In conclusion, training camps can be an incredibly effective (almost necessary) strategy for the serious long course athlete. Keep in mind though that getting a good training response is a function of both the training that you get done and the speed at which you're able to absorb it. The more extreme the training load, the more extreme you need to be with the measures you take to absorb that load.
Train smart,
AC
***************************************************************
Older blog entries can be found here